Menus
Meals, foods and beverages sold or served at schools meet state and federal requirements based on the USDA Dietary Guidelines. All meals, foods and beverages are prepared and served by qualified child nutrition professionals. We provide students with access to a variety of affordable and appealing foods that meet the health and nutrition needs of students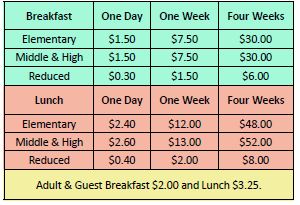 * *Adult meals are not subsidized by state or federal funding and by federal regulation must be priced to cover the cost of the meal. Meals for visiting children, who are not enrolled with Bartow County School System, by federal regulation, must be priced to cover the cost of the meal and so are the same as the adult meal price. A la Carte and extra food prices change annually and are based on the raw cost of the ingredients. These prices will be posted in each dining room serving area.
**The food allergen information provided is based on our current information from manufacturers and the USDA database. Products served throughout the school year may change based on the availability of commodity and purchased products. Unforeseen circumstances may result in products becoming unavailable or requiring product substitution.
The allergen list is updated as new information becomes available. Please be aware that the formulation of products by manufacturers may change at any time and no notice is given to their customers.
Click arrows to scroll through months

Nutrition Info

Allergens List SY18-19.pdf
Carbohydrates in Fruits and Fruit Products SY18-19.pdf
Carbohydrates in Snacks, Condiments, Dressings, Extras SY 18-19.pdf
Nurse Menu, CHO Counts, ES.pdf
Nurse Menu, CHO Counts, HS.pdf
Nurse Menu, CHO Counts, MS.pdf
Nurse Menu, CHO Counts, PREK.pdf